Good morning everyone and welcome to the latest installment of WordPress Theme Releases proudly brought to you by Weblog Tools Collection.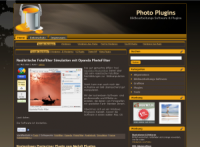 Photo Theme is the newest release from Blogging Inside and much like their other themes features a soothing colour palette. This theme comes with a 300px wide sidebar (perfect for your ads) and a whopping seven widgetized areas. It is also localized and comes with the language files for English, German, French, Spanish, Italian and Russian.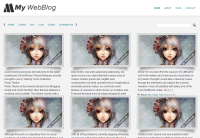 Magnitade comes to us from Jing Xuan and sports a crisp and clean look. Although it is meant to be used as a gallery theme it can easily be adapted for other purposes. It requires the WP-PostViews and WordPress Related Posts plugins to function, both of which are included in the ZIP package.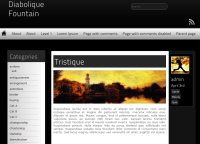 Diabolique Fountain, from Diabloique Design, is a nice looking dark theme which sports a horizontal navigation menu for displaying pages including a drop down menu for child pages, a left widgetized sidebar and a large footer area.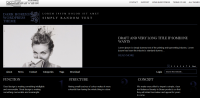 If you are unfamiliar with Milo's work you are in for a treat as she turns out some of the most artistic and beautiful themes I've come across. Dark Horizon is no different. As the name implies, Dark Horizon is a dark portfolio theme with blue tints. It features a drop down menu for both pages and categories, a jQuery powered front page slider and built-in support for pagenavi and related posts. It is also cufon custom font enabled and comes with an options page. The only drawback is the theme is not hosted on her site. If you want to download it you will have to visit 4shared.com.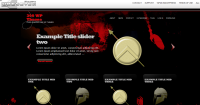 300 is another visually stunning theme from Milo of 3oneseven. Like Dark Horizon, it is a dark theme with red highlights. It is cufon custom font enabled, contains Flickr support and has an options panel for full control over the front page. The footer holds links, complete with custom icons, to some of your favourite social networking sites such as Twitter and Facebook and the front page sports a jQuery slider. As is the case with Dark Horizon, if you want to download 300 you'll be directed to 4shared.com.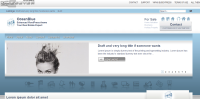 Ocean Blue is the third theme from Milo we are featuring. Unlike the previous two themes, this one is brighter with its main colours being blue and white. While it is aimed at the real estate niche, with a bit of work it can be used with a regular blog. Some of the features include a jQuery powered front page slider, built-in twitter status updates, a large footer area, drop down menu for pages and categories and built-in related posts. Included is a print style sheet. Again, if you want to download this theme you'll need to do it from 4shared.com.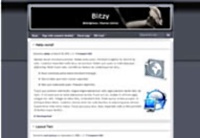 If you're looking for a less cluttered look, the single column Blitzy theme from Mainolo is worth taking a look at. Some believe that not having a sidebar will allow your visitors to concentrate on the content as there are no distractions. If you still want to include such things as links etc fear not for Blitzy comes with a fully widgetized footer. This is a clean and crisp looking theme that comes with an options page and allows you to change the header graphic from the backend.
We hope you enjoy the latest offerings and as always if you have any comments, questions or suggestions, feel free to drop them in the comments section below. We always look forward to hearing from you.