Good morning everyone. Hope you are having a great weekend. For your Sunday morning reading pleasure we bring you the latest installment of WordPress Theme Releases. Enjoy!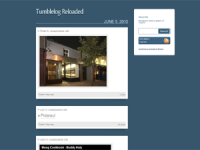 Tumblelog Reloaded is the 4th theme from UK-based Polaraul Themes that we've featured here at WLTC. This theme is a rework of the Tumblelog theme by Safirul Alredha. Some of its features include:
custom page to post photo, quote, link, chat and video
automatically format each post based on post type
automatically resize large images/photos
microformats hAtom and xFolk friendly
It also comes with a theme uninstaller.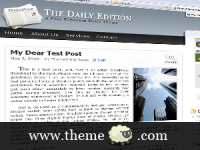 The Daily Edition from Theme Sheep is a magazine-style theme that comes shipped with a whopping 7 different colour schemes to choose from. It has built-in pagination and breadcrumb navigation as well as "related posts" and features some cool animated social bookmarking icons. From the theme's options page you can do all sorts of things such as:
Include links to your RSS feed, Feedburner feed, Facebook page and Twitter page
Include some custom CSS
Include some custom footer content
Select your colour scheme
Select how many large posts to display on your front page. You can also decide how to display those posts – either full content or excerpts. If you choose excerpts you can even decide what length of excerpt you want.
Select how many small posts to display on your front page. As is the case with the large posts, you can decide if you want to show full content or excerpts including the desired length of excerpts.
These are just a few features. There are many more.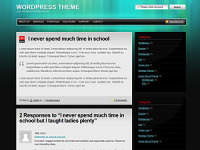 Intention is a sharp-looking 2 column theme with a widgetized right sidebar and sports a horizontal navigation drop down menu for displaying pages.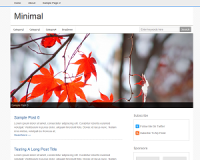 Don't let the name or appearance of this theme fool you. It may have a minimalistic look but contains oodles of goodies under the hood. From the theme's slick options page, some of the things you can do are:
Include a custom favicon
Enable/disable thumbnails on both the home page and individual post pages
Enable/disable the home page slider
Exclude pages/categories from the horizontal nav menus
Enable/disable the "related posts" feature
Activate/deactivate the sidebar advertisement block
You can even elect to activate/deactivate the "extended footer" feature. When activated, your site will display a 4 column footer containing an "about me" section, a list of recent posts, a blogroll and your Twitter stream.
We hope you have enjoyed this edition of WordPress Theme Releases. As always, you're welcome to share your thoughts with us. We value your feedback.