Good morning everyone and welcome to the latest edition of WordPress Theme Releases. I hope all of you are enjoying the weekend. I know I am. So, grab a cup of coffee and have a look at the latest offerings from the WordPress community.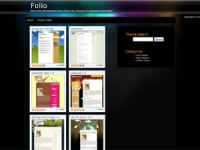 Folio is a dark theme aimed at those wanting to create a showcase-type of site such as one that features wallpapers, backgrounds etc. It automatically creates custom fields for preview, image, download and more information links. Supports the WP-PostRatings plugin. This is a child theme of Aurelia which of course means Aurelia must be present in your theme folder for Folio to work. Aurelia can be found in the WordPress Theme Repository.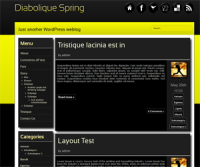 Diabolique Spring is the second theme of Diabolique Design we have featured. This is a sharp-looking dark theme which comes packed with 4 different background images as well as 3 types of backgrounds for your headlines. Some of this theme's features include a large footer, cool looking social bookmarking icons and drop-shadow effect for both the sidebar and post area boxes.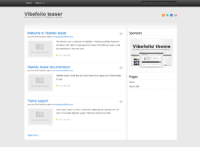 Vibefolio teaser is a clean-looking theme which sports a horizontal navigation menu for pages, a widgetized right sidebar and a widgetized 5-column footer. From the theme's option page you can do all sorts of things such as upload a custom logo and favicon, include links to Feedburner, Flickr, Twitter and Facebook, insert your Google Analytics code and even disable excerpts. Comes with the TimThumb script.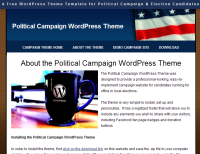 This is a crisp and clean-looking theme perfect for, you guessed it, sites dedicated to political campaigning. For that matter it can be used on any type of political site. It sports a horizontal navigation menu for displaying pages and a widgetized 2 column footer.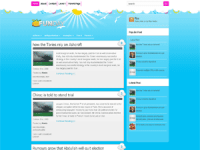 DynamicWP has been on a tear releasing new themes regularly since arriving on the scene. Their latest release FunDay is a bit of a departure from their previous work as it has a lighthearted feel to it. It has 2 horizontal navigation menus, one for displaying pages and the other for categories, a widgetized right sidebar and built-in Flickr and Twitter streams. From the theme's options page you can upload a new logo and Gravatar, exclude pages and categories from the nav menus and include links to Twitter, your RSS feed and RSS email among other things.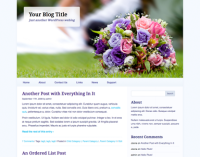 Wedding Bells is a crisp, clean and neat looking theme released by Finnish designer Lauri Liimatta. It sports a horizontal navigation menu for pages and a widgetized right sidebar as well as a large header image which can be changed from the backend.
We hope you have enjoyed this latest round of theme releases. As usual, if you have any comments, questions or suggestions feel free to drop them in the comments section below. We value your feedback.