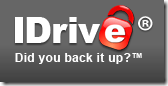 There are 119 plug-ins in the WordPress Extend site that have the words backup and database in the descriptions.  That in turn makes for a lot of options when it comes to backing up your critical data for your WordPress based website.
A recent addition to the mix not only offers you a backup solution but they offer you a backup solution in the cloud.
The IDrive WordPress plug-in allows you access to your IDrive backup account and it works with either the free basic account or a paid account.  The free account offers up to 2GB of storage which should accommodate most sites.  If you need more space you can get their entry level paid account for less than $5 per month that allows you to store up to 150GB.
Here is a description of the plug-in and its features from the developers:
IDrive Plug-in for WordPress is an easy to use backup utility, designed specifically to backup WordPress blog data into your IDrive online backup account. It provides scheduled as well as immediate backup of WordPress blog data including files and MySQL database dump.

Features

Immediate backup of WordPress blog data, both files as well as MySQL data dump, into your IDrive online backup account
Scheduled backups occur after 12 midnight every day
Immediate restore of backed up data from your IDrive online backup account
Smart backup – Only the first backup transfers entire WordPress content, subsequent backups are incremental where only the modified data is backed up
Automatic notification via email on backup / restore status
Secure transfer of data to IDrive server using SSL. Non SSL transfer option is also available for non SSL servers
Detailed logging of backup / restore operations

System Requirements

WordPress 2.8.5 or higher hosted on a Linux / Unix system. WordPress blog hosted on a Windows system is not supported
Javascript enabled web browser – IE, Safari, Firefox, Chrome
Admin access to WordPress dashboard to activate the Plug-in
PHP 5.1 or higher
Installation is just like any other plug-in.  Once installed and activated look under the Settings menu in your WordPress Admin site and click on IDrive.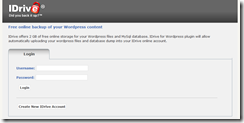 The main IDrive screen. If you have already signed up for your account just enter your username and password. If you need an account click the Create New IDrive Account link.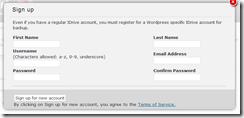 Fill this form out to create your new account and once it is submitted you will be signed in and able to setup your backups.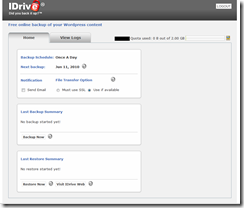 This is a very self-explanatory form to setup your backup periodicity as well as just a couple of options. The backup triggers after midnight on the days it is scheduled.
The second tab on the main screen allows you to see the logs related to any activity with your backups and account.
I started up an initial backup of WindowsObserver.com and 7,460 files were identified for backup. After 10 minutes only 80 of those files had been backed up.  At that pace 480 files will be backed up an hour and that means it could take over 15 hours to do this backup process.  I will post a note in the comments to verify how long this back up actually took once it is done!
At least subsequent backups will be incremental and only effect data and files that have changed.  I did not notice any impact browsing on my site while the backup was in progress.