Hello everyone and welcome to yet another installment of WordPress Theme Releases proudly brought to you by Weblog Tools Collection. I realize we just had a release post a couple of days ago but a few great themes popped up in our forums so I thought I would bring them to your attention right away.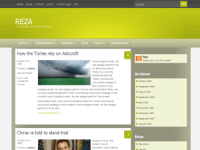 The folks at DynamicWP have been turning out some fantastic themes as of late and their latest offering Clean Green is no different. As the name implies, green is the dominant colour of this theme. The various shades of green used in this theme go well together. Clean Green comes with a widgetized right sidebar and a widgetized 3 column footer. Flickr and Twitter streams are built-in and appear as widgets on the widget screen. From the theme's options page you can use a custom logo, a custom Gravatar and exclude both pages and categories from the horizontal navigation menu. From there you can also insert your Twitter, RSS and E-mail feed link among other things.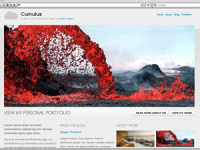 Empire Themes (formerly known as refueled) has cranked up their theme design a notch or two and have been busy turning out some excellent themes. One of the first themes I ever used years ago was a design called Ad Clerum by refueled so I am very familiar with their work.
Cumulus is their latest release and is perfect for use as a portfolio theme. Setting up the theme is quite easy. Simply create a new Page called "Portfolio" and use the accompanying Portfolio Page Template. Then create a new category also called "Portfolio". Now, when adding a new post you will see a new form field under the write post box called Portfolio Post: Image Location where you add the URL of the image you want to include. It also comes with its own options page. Coming soon is a matching bbPress theme.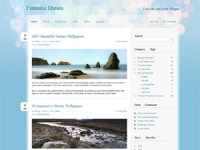 Fantastic Dream is a light coloured theme with a widgetized right sidebar and built-in tabber powered by jQuery. From the theme's options page you can easily change the header image.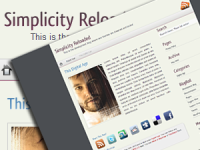 Simplicity Reloaded is a simple yet elegant looking theme. It features built-in breadcrumb navigation and social bookmarking functions.
We hope you have enjoyed this post and as always, if you have any comments, questions or suggestions feel free to drop them in the comments section below.