Now that you have optimized your WordPress settings, you are almost ready to welcome visitors to your blog, however there are also some unwanted visitors called spammers.
WordPress has a very good plugin to take care of such spammers in the form or Akismet, this plugin will block spam comments and help you keep your blog clean from spam links.
Akismet plugin is available by default in all new WordPress installations, however it does not work out of the box and you need to setup Akismet to work for you blog, in this post we will see how to setup Akismet to protect your blog against spam comments.
Activate Akismet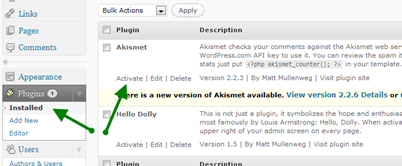 Before you can use the plugin, you will need to activate it, to do that click on the plugins menu and then click on the Installed link in it.
Find Akismet in the installed plugins and click on the Activate link to activate the plugin. I will be doing a more detailed post on working with plugins later.
Obtaining WordPress.com API key

Once you have activated Akismet you will see a message that the plugin is activated, along with that you will also see a message that you need to add a WordPress.com API key for it to work.
Many new WordPress.org users may not have a WordPress.com API key, to get one go to the registration page for WordPress.com and signup for a free WordPress.com account.
Once you have registered and confirmed you account, you will receive the API key in your email, make sure to store it someplace safe. If you do not have the original email login to your WordPress.com account to your Global Dashboard Profile (clicking this link will take you there).

You will see your API key on your profile page, copy the API key and save it someplace safe for future reference.
Hint: A single WordPress.com API will work for multiple blog installations you have, so you do not have to perform this step over and over again for all your blog setup, just keep the API key handy.
Add API key to Akismet Configuration
Once you have got the API key, go back to the admin dashboard of your blog and click on the enter your WordPress.com API link, this should take you to the Akismet configuration page.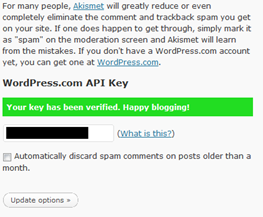 Paste your API key into the box provided and click on update options, alternatively on the same page you can also choose to automatically discard spam comments older than one month.
This will help you save some database space, as in the long run as your blog gets popular you will attract more and more spam comments.
Tips and Tricks for Using Akismet
Once you have activated and completed the API key setup, Akismet will work in the background protecting you from spam comments, however it is always a good practice to check the spam folder every once in a while to see if any genuine comments have been marked as spam.
Though those cases are very rare, you may still find one or two stray genuine comments being marked as spam.
Also there may be times when you may want to mark comments as spam, for example a trackback from a newly created spam blog may not always be detected, you can mark the link as spam, Akismet will take care of them in the future.

Alternatively if you have received 10 spam trackbacks from a splogger (spam blogger), there is no need to mark all the 10 comments as spam individually, just mark one of them as spam and click on the "Check for Spam" button to mark all the other trackbacks as spam, this will save you some time dealing with spammers.
There may be several things that I may have missed out here, please feel free to discuss and add your own views and suggestions.
This post is part of our WordPress for Beginners series where we will be explaining several things to make using WordPress much more easier.