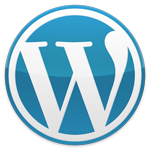 Actually this should not be a big surprise for those of us who frequent sites like this to see that the latest version of WordPress is moving out the door at this kind of pace.
If you want to watch the parade of downloads then you should check out this site:
http://wordpress.org/download/counter/
Personally I do not remember a similar download counter on past versions but that does not mean it did not exist.  Maybe someone from WordPress can comment on how this versions download pace compares to past updates. I think that would be interesting to know and compare.
I grabbed this screenshot at 8:20 AM EDT just to give you a frame of reference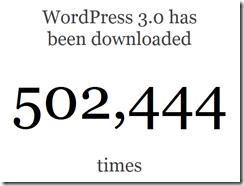 I did some very rough calculations and watched the counter for 60 seconds to get an idea of just how fast those downloads are happening:
50 downloads per minute
3,000 downloads per hour
72,000 downloads per day
504,000 downloads per week
Taking those numbers it translates to this type of bandwidth (based on a 2.2 MB download for WordPress 3.0):
110 MB per minute
6.6 GB per hour
158.4 GB per day
1.11 TB per week
And just in case your curious that continues out to:
4.44 TB per month
53.28 TB per year
I think those are amazing numbers and a testament to the quality of work and ease of use that WordPress provides us everyday folks for creating quality websites.
By the way – in the time it has taken me to write this posting the counter has now moved up to: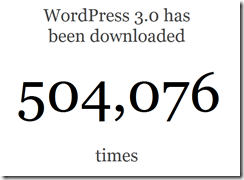 Please make sure you stop by Keith Dsouza's post from yesterday about WordPress 3.0 and share your thoughts about what you have found in this latest update to the WordPress blogging platform.
Welcome back Keith!