Comments form a very integral part of any blog to generate communication and spark discussions. As a WordPress blog user, managing comments and replying to them is very easy, however, what if you can manage and reply to comments from your desktop?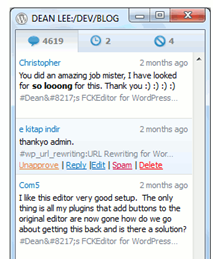 WP Comments Notifier is a open source application written in QT/C++ for Linux and Windows, which will allow you to manage new comments and reply to them from your desktop. In addition to that, it will also allow you to edit, spam or delete the comments.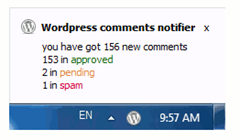 This app will also display comments summary when you hover over the system tray icon and alert you whenever a new comment is posted to your blog. The app also works for WPMU blogs.
You can download the installer for Windows by visiting the app homepage and also find instructions on how to build the app from source on Linux machines.