Having several blogs can be a bit hard to maintain, and micro blogging services like Posterous and Tumblr provide a quicker way to post content to the web. However, WordPress has added features which are similar to Posterous, in the form of posting by email to WordPress.com blogs.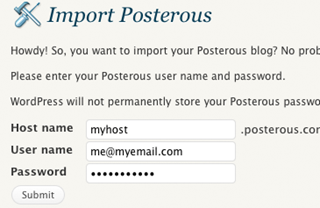 If you have started using that feature and are looking to import data from your old Posterous blog to your WordPress.com blog, you will now be able to do it using the Posterous importer. To import content from your Posterous blog to WordPress, login to your dashboard and go to Tools -> Import, click on the link for Posterous importer to being the process of importing data to your WordPress.com blog.
More info and details at the Official WordPress.com blog.