WordPress 2.9 (Carmen) has been officially released and has quite a few new features.  Some are visible and right on the page while many others are under the hood. 
One of the features that I really like is the ability to bulk update my plug-ins.  In previous versions of WordPress you had to update each plug-in individually by clicking on the automatic upgrade link in the WordPress plug-in, entering your FTP credentials and then waiting for the update to happen. If you had a lot of plug-ins this process could take a while to do.
To utilize the new bulk update process go to the Tools>Upgrade menu in the admin panel: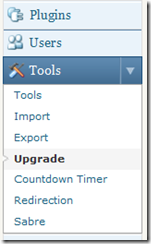 There you will find a screen that looks something like this":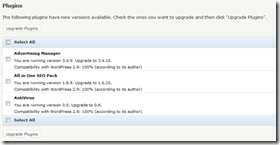 Select the check boxes for all the plug-ins you want to update and then press the Upgrade Plug-in button at the bottom and you will then be taken to a dialog box your familiar with to provide your FTP credentials. Once you have plugged those in the upgrade process will happen and once it is done you will be presented with this results page: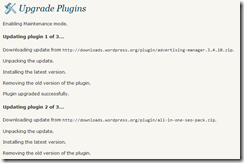 That is it for the process.  The only change I would recommend in a future update to WordPress is to place a link for this functionality on the actual plug-in admin page – maybe in the bulk action drop down menu.  From what I could see this bulk update option is only available on the main upgrade page.
So what is your favorite new feature of WordPress 2.9?