WordPress 2.9 beta 2 is out, and the final release of WordPress 2.9 should be out in a short time. However, not many of you might have tried out the beta or may be aware of the new functionalities that will be included in it.
Here is a hands-on review of WordPress 2.9 Beta 2. I try to showcase some of the most interesting features you can look forward to.
Image Editor
The most interesting feature in WordPress 2.9 is the introduction of a basic image editor. Using this feature you can crop photos, resize them and more.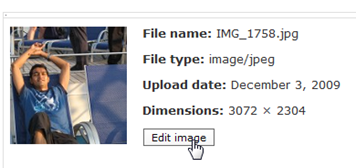 In WordPress 2.9 whenever you upload an image, you can edit it using the edit image option.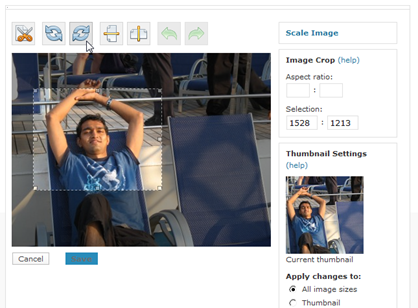 The image editor contains several useful functions such as image cropping, image rotation and image flipping. In addition to that you can also undo and redo your actions. Overall WordPress 2.9 provides users with a much needed image editor which rocks.
Post Trash Can
How many times have you had a OOPS moment, when you deleted a post and then realized that you should not have done it? WordPress 2.9 introduces a much needed Trash can feature, which will allow you to undelete the posts you did not intend to.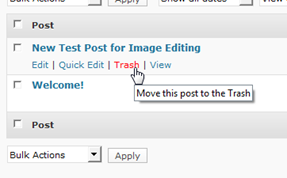 The new Trash feature completely replaces the old Delete functionality, when you click on the Trash link, the status of the post will be moved to "Trash", and can be restored for a certain time limit, 30 days by default.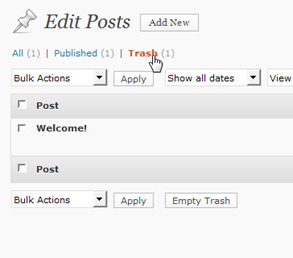 To view all the posts or page in Trash, just visit the Trash menu in the top of the Edit Posts or pages section. You can also limit the number of days the trash can should hold deleted posts by adding the following line to your wp-config.php:
define('EMPTY_TRASH_DAYS', 7);
Change the number 7 to the number of days you want to store deleted copies in the trash can.
Restoring Deleted Posts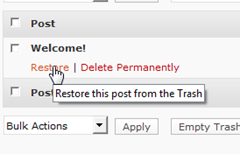 If you deleted posts by mistake, you can always restore it by visiting the Trash menu and clicking on the restore link. You can restore multiple posts by using the Bulk options.
Disabling Trash Can Feature in WP 2.9
The Trash can feature is very useful, however, some of you might want to disable it. To disable trash feature, just add the following code to wp-config.php: define('EMPTY_TRASH_DAYS', 0);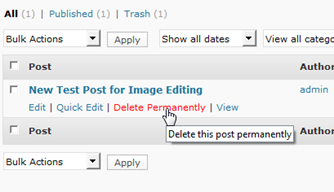 Once you do that, you will see Delete Permanently option instead of Trash.
Embedding Videos and Images with oEmbed
oEmbed provides media providers with a way to provide additional information about a media used from their sites you are adding it from. For more information on this visit the oEmbed site.
In short, you can now embed videos directly into WordPress by providing the URL of the video, instead of having to add the entire embed code into it.
oEmbed support is enabled by default, you can disable it by visiting Settings -> Media.
Tackling Duplicate Content With rel="canonical"

WordPress 2.9 adds a new tag to the page header which specifies the canonical path to the actual content. Using this tag is highly suggested if you want to tackle duplicate content. You can read more about what this means at a Google Webmaster blog post.
Automatic Database Repairing
WordPress 2.9 introduces a new feature which can help you to automatically repair database problems. This can come in very handy as not many users usually manage their database or optimize them.
To setup Automatic DB repairs in WP 2.9, you will need to add a new constant to your wp-config.php file as follows:
define('WP_ALLOW_REPAIR', true);
Once you do that, WordPress will automatically repair the DB periodically
Under the Hood Changes: Theme & Plugin Developers
These changes should not usually affect the end users, but will help our plugin and theme developers.
WordPress 2.9 introduces new functions which can come in pretty handy to plugin and theme developers. These include, but are not limited to:
Ability to get the thumbnail image for any post using a function.
Ability to create custom post types.
Ability to add additional metadata for comments and posts.
Ability to register a theme directory, other than the default one.
WordPress 2.9 does not pack as many features as 2.8 did, however it does introduce a lot of new and exciting features. Many of which will make life easier for both the end user and plugin and theme developers.
These are some of the most noticeable features I saw in WordPress 2.9. However, I might have missed a few of them out, so please feel free to comment and let me know about them, or give your views on what you think of the latest changes that will be unleashed in WordPress 2.9.