WordPress has a pretty decent role management in place, which allows you to create users and assign them certain privileges and functionality. However, there are few things which you cannot do right now with it. For example, creating new roles, modifying role privileges and so on.
The Role Manager plugin fills in that void and adds a very robust role management interface to WordPress. Though I won't go into much detail about the plugin, I just wanted to highlight a simple trick, using which you can disable delete functionality for post and pages and retain it with only the administrator of the blog.
Disabling delete functionality may be done for several reasons, specifically on multi-author blogs. However, my sole reason for doing this is that "Precaution is better than Cure".
To disable delete functionality for post and pages, install the Role Manager plugin (if you haven't done it already) and click on the Roles link under the Users menu, in the admin dashboard sidebar.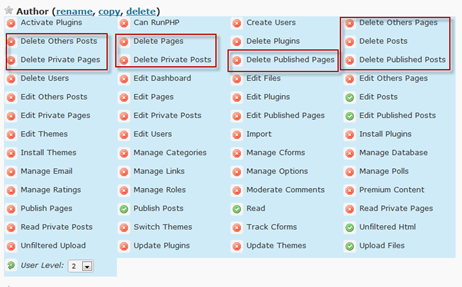 Once you are on the Roles page, browse through the roles and click on the green checkmark (if they appear) next to the privileges highlighted in the screenshot above. Don't do this for the administrator role though.
Once all the checkmarks have turned to red cross marks, the delete functionality will be disabled for the respective roles.
Role Manager is an excellent plugin and will come in pretty handy for multi-author blogs. I have just highlighted one of the many things you can accomplish with this plugin, so go ahead and give it a try.