WordPress is no doubt one of the best platform for blogging, and Twitter is probably one of the fastest moving real-time news engines. What happens when both of these come together? You get "Publicize".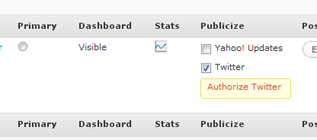 To several users joy today, the WordPress team announced the introduction of Publicize, a tool that will allow users to send their posts as updates to twitter.
You can either, choose to use the automatically generated tweet, or customize the tweet's that are send out to twitter. In addition to that, you can also control whether or not a post should be tweeted or not, by changing the settings at post level.
Overall a pretty good introduction, that will surely be widely popular. Visit the Publicize support page, to learn more and get started with Publicize.
By the way, don't forget to follow us @weblogtooltips.