Last week I posted a blog entry to generate discussions about how you work at Developing Post Ideas for Your WordPress Site. The response by everyone was tremendous – 33 comments and quite a few great ideas.
It seemed that the most popular way to keep track of ideas for blog entries is by using the built in draft functionality of WordPress.  You can do this via the Admin Post writing interface or even via offline tools such as Windows Live Writer.  A quick title and a few words, lines about what you want to write about and then save it as a draft.  That draft will happily sit there waiting for you to come back to it when your ready or when you have more info to write down towards the idea/post. Once you get the post where you want it and feel the inspiration to complete it then it is easy to just publish it to your site.
If you want those drafts to appear on your WordPress Dashboard for quick reference then from the main Dashboard page of the admin interface click on Screen Options and select the checkbox next to Recent Drafts:
That in turn will place a panel on your Dashboard showing your drafts:

Those titles are clickable and will take you directly to the post edit page.
That is a great way to keep track of those ideas because you never know when you might log in to your admin interface and be inspired when you see those draft ideas and jump in there to finish writing that next great posting.
A plug in that was mentioned more than once to help manage a long list of drafts is the Drafts Dropdown Plugin developed by Alex King. This plugin places a tab on your Dashboard that gives you on click access to a drop down tab with your drafts listed:


Some other ideas that were mentioned to generate and hold onto those ideas were:
Good old everyday notepads, notebooks, sticky pads.
Take a break from blogging to let your mind clear and refresh your writing palate with new ideas.
Review the comments on your site or on a single blog entry for follow on ideas (that is the method I am using here)
Peruse RSS feeds or other websites with similar subjects to generate fresh ideas or new twists on one of your blog subjects.
Someone even mentioned writing down ideas that come up when they over hear discussions on public transportation!
One other plugin that got mentioned for tracking your ideas was the To Do List plugin by David Gwyer.  This plugin places a dialog box on your main Dashboard screen that is a simple text box. Just write your ideas or to do list in there and save it.  That's it.  I recommend you move it into a prominent place on your Dashboard so you see it each time you log and hopefully get inspired to write that post. No hotlinks in this plugin just a simple electronic version of a notepad.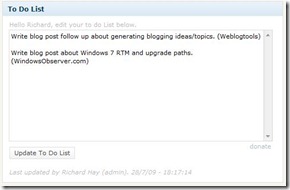 The bottom line is you have to find your inspiration and plug away.  Blogging is a passion and that makes getting the ideas a lot easier in the long run.
As for the electronic assists I discussed here. I recommend a combination of draft posts to hold your ideas and the use of the Drafts Dropdown Plugin to make your drafts easy to access from within your dashboard. With the quick access to your drafts and then one click to the edit post screen it is the simplest means of working on those inspired postings!
Thanks to everyone who contributed. See ya on the next one!