WordPress has a huge community with a active user base contributing in the form of excellent plugins, however most of the plugins are scattered all over the internet making it more and more difficult for users to find them and also for plugin authors to send out updates whenever there are any.
However to solve the problem there is WordPress Extend, a place where plugin developers can add their plugins, making it easier for others to find them.
It would be really good if more and more developers started using WordPress Extend to distribute their plugins, I would like to discuss a few benefits developers get when they add their plugins to WordPress extend to make that decision easier.
Hint: If you are unaware of how to add your plugin to WordPress Extend, read our earlier tutorials.
Here are the benefits of adding your plugin to WordPress Extend.
Free Hosting Space
You get free space to host your plugin files and also have the ability to host as many plugins you want, provided they are approved.
Free SVN Versioning System
If you have been a developer for sometime you might already know the benefits of using a versioning system, it not only helps you to have a history of changes, but also helps you to go back to previous versions or trunks with ease.
Publicity for Your Plugins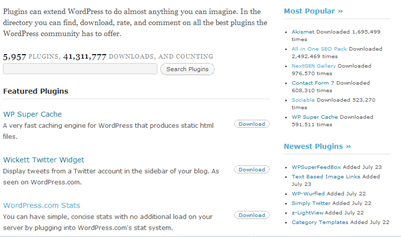 Once you add your plugins to the WordPress extend directory, it is discoverable by WordPress users, and with the ability to search plugins from the dashboard it gives your plugin much more better chance of being used and discovered.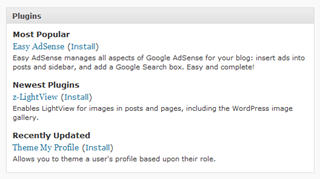 In addition to that, whenever a user logs in to the admin dashboard they see new and popular plugins, giving them more exposure.
Ratings, Statistics & More
How Popular is your plugin, how many times have they been downloaded, do you want to keep track of these things easily without breaking your heads and using it to develop more and more useful plugins?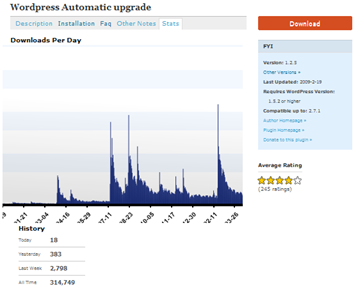 WordPress Extend provides users with all these features along with the ability to leave comments and feedback for your plugin.
Ability to Push Updates Directly to Users
WordPress has a excellent system to allow users to automatically upgrade plugins from the admin dashboard, however that feature is available to plugins that are listed in WordPress extend.
So the next time you add a new feature, fix a security problem or change something with your plugin, rest assured your plugin users will be intimated about it without you having to break your head and contacting each and every user, which is impossible by the way.
What Else?
Did I miss anything? Will you add your plugins to the WordPress Extend, now that you know the benefits? I would like to hear from you, the discussion is now open, so go ahead and let your thoughts be known.
P.S. One thing I would like to suggest WordPress plugin developers is to add a changelog to their plugins, read why adding changelog matters also check out the blog post Improving your plugin – Changelogs from the WordPress development blog.