Microsoft recently released a public beta of their newest web browser, IE9, that has quickly become very popular.  In its first 48 hours of availability it was  downloaded 2 million times.
You know what that means – more users are visiting your WordPress site using IE9 everyday.
So why not take advantage of a feature that combines new capabilities in IE9 and the Windows 7 Taskbar to ask visitors to place a permanent link to your site on their Windows 7 Taskbar?
Some real quick background.  On the Windows 7 Taskbar any icon that is placed there can be programmed by the software's author to have interactive menu items on what is called a Jumplist.  This Jumplist typically contains shortcuts to program features and commands to provide quick access to them.
Well with the introduction of IE9 webpages can have code added to them that will allow a visitor to drag the favicon to their taskbar and that code then adds an interactive Jumplist to the favicon as it sits on the users Windows 7 Taskbar to create those interactive features.
Well for those of us who use WordPress as our publishing platform we know that the easiest way to add features and functionality to our websites is through the use of plugins and the breadth of developers that are out there making them.
Well you know it was only a matter of time before the plugins started to be built to take advantage of these new features in IE9 and Windows 7.
Let me introduce you to the IE9 Pinned Site plugin by fatihboy.  This plugin is very fresh as it was published just yesterday for its initial release and it is his first WordPress plugin.
So installation is straight forward like most plugins – just download it from the WordPress.org Plugin site and then activate it on your site.
You will find the simple one page settings page for this plugin under the Settings > IE9 Pinned Site menu item.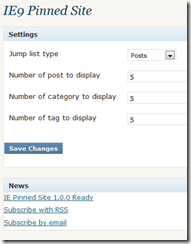 Here you just select whether to feature your posts, categories or tags on the Jumplist for your website and how many entries you want of each.  Using those settings above this is what the Jumplist looks like for my site WindowsObserver.com:
As you can see my most recent 5 posts are at the top followed by the Tasks header which provides links to 5 of my website pages.
An additional feature of Jumplists in Windows 7 on the taskbar is the ability to pin things to them. 
This is the same Jumplist except I have pinned one post which you see under the Pinned header.  Just click the pin icon while hovering over a Jumplist entry to pin that item to the Jumplist on your system.  The ability to pin a site on the Jumplist is in Windows 7 and its new Taskbar not in the plugin itself.
I see a lot of potential for this plugin for customization of the Jumplist such as the name of each header area, picking what entries you want on it as far as posts, tags and categories are concerned instead of just by a numerical number and allowing you to place something from each group on the Jumplist (i.e. categories, tags and posts all being represented instead of just one).
Don't get me wrong this is a great initial implementation of this capability and I am pleased once again that the strong community of developers has answered the need for this so quickly after the new features are available in a new browser.
What do you think?  Any suggestions for the author of the plugin for future updates?  Looking forward to hearing from you in the comments.