One Column Themes
LaunchPad
Many a times you may buy a new domain but may not have the time to launch the new blog immediately. The LaunchPad theme acts as a domain parking theme so that you can show a customized message to readers till you are ready to launch the blog.
Demo | Release Page | Download
Stripped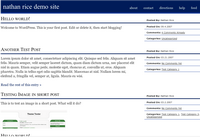 Stripped is a one column theme with three sidebars in the footer area. The theme is simple and is available in multiple colors such as blue, pink, green, red, orange and purple. The author meta for the post features to the left side of the post.
Demo | Release Page | Download
Two Column Themes
Be Mine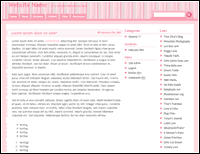 Be Mine is a two column WordPress theme specially made for Valentine's. The theme is available in one column and two columns in different colors such as pink, blue, purple and green.
Release Page | Preview / Download
Three Column Themes
Uncrufty
Uncrufty is a no-frills three column theme with minimum use of colors. The theme comes with two sidebars and a medium width content area. The colors are used are variants of blue.
Demo | Release Page | Download
Velocity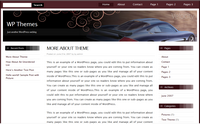 Velocity is a three column theme with vibrant colors. It has one sidebar on each side of the content area. The colors are made up of different shades of brown. The content area is wide enough to hold medium sized images.
Demo | Release Page | Download