Alex King who's been a fantastic member of the WordPress community since the creation of the project has published what I consider a fascinating post on his blog regarding his open-source motivations. The post contains his answers to questions provided by David Hobson who is currently performing research into the business/financial models as well as the motivations for open-source projects.
There are a number of things that come up during the article that are worthy of discussion.
I used to get about $100-200/month in the way of donations through my website. Unfortunately due to changes in the way plugins are presented on WordPress.org that has dried up to about $5/month.
While that quote may look like Alex King is looking to rake in some money via donations, the truth is, the Plugin pages have been redesigned and the donation link is now housed within the FYI box with a tiny blue link. If I remember correctly, the donation link used to be in a more visual location to the point where you couldn't miss it. So I think Alex is on to something here.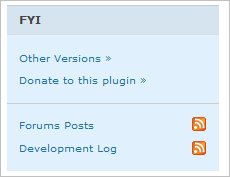 Some plugin developers feel as though they have been screwed over thanks to this change and rightfully so but I have to question why it really bothers them. If those plugin developers were counting on those donations as a means of making a living, then there expectations were already off base. If you want to make a living, you better charge for support or for access to your plugin via an API key. If we eliminate that reason, what reason is left to be so upset at the redesign? Something else to keep in mind is that WordPress.org is not responsible for ensuring the success of your business, whatever that business may be. That's up to you.
WordPress best practices evolve with each release, and plugins written properly just a few short years ago are badly outdated as a result. We've invested a significant about of money in this effort, and I honestly don't expect to receive anything back from it.
Alex said a word that I think is at the crux of the situation most of the time and that is, EXPECTATION. If the expectation is to be a millionaire thanks to donations, you're going to be disappointed and think the WordPress community sucks at giving. However, if you have the expectation that your plugin solves a problem that many other users are having and you'll get nothing in return, well that's a much better starting point.
David asked Alex a very interesting question that presented an equally interesting answer. David asked Alex if the thanks and appreciation go anywhere near compensating the constant e-mail asking for support? What inspires his desire to give without return?
I actually feel strongly that the current situation is unsustainable. Unless the WordPress community at large starts to better recognize and reward the developers that create the tools that they use and rely on, the developers won't/can't continue to provide as they have.

In talking with other plugin developers, it seems fairly universal that the reward for a successful plugin is a deluge of support email that includes the worst kind of sense of entitlement, rudeness and ignorance. The community as a whole seems to expect to be able to pay nothing, yet received expert and individual help and support for free.
Well, we have ThanksGiving where often times, fans of WordPress and the plugins they use are given thanks in a blog post with links and sometimes donations. January 28th is thank a plugin developer day although there was a lack of a blog post about it in 2010. Then there is the donation to your favorite plugin developer day (March 1st.) Last but not least, plugin authors received some cash during the run of Donate Friday that I participated in for a few weeks. All of these efforts with the exception of Matt declaring a new holiday were community driven.
I take a bit of personal issue with the fact that I participated in those programs voluntarily but I still have to somehow recognize and reward those developers. There are a large handful of developers where the best reward they could have is seeing users happily solving their problems with code they wrote. Sometimes, I wonder if plugin developers would be happy if I gave them my first-born or would they then request the second child as well? I completely understand that saying thank you does not pay the bills but come on! What do you want from me!?
I do agree with Alex regarding his sentiments on the deluge of support emails, the rudeness of people coupled with ignorance. What Alex mentioned was pretty much the basis behind one of the most popular posts written for WLTC asking whether WordPress Was A Thankless Community? What a great discussion that was had in the comments! Unfortunately, from my talks with various plugin authors, not much has changed since then.
I think the mentality that everything that is built on or around WordPress should be free because WordPress is free will quickly erode, especially since more and more commercial plugins are being created. My hope is that at some point, users can understand that support as well as upgrades are two of the most valuable assets to a plugin and that sometimes, they are most certainly worth paying for. I remember Matt being quoted as saying "The best things in life are free". I have a hard time going along with that as some of the best things in my life I have ended up paying for, without regret.
In Closing:
Alex King doesn't know the answer to the problem of rude, ignorant, just plain obnoxious people and I don't either. Considering the vast user base that encompasses WordPress, is that particular problem even solvable? Should everyone that uses WordPress or any one of the plugins available for it be forced to go through some sort of ethics or politeness training? I bet many would love to see that idea come to fruition but it's a pipe dream. I just don't see how Matt Mullenweg or any other individual could solve this problem. Hell, I don't even think the WordPress community itself can 100% solve the problem.
As I mentioned, Alex's post provides a lot to chew on. In the comments, I'd love to hear your thoughts on some of the questions and perplexing problems that were brought up throughout the post. I'm also interested in hearing from individuals that would like to explain what their motivations are for contributing to something like WordPress or open-source in general.