Tue 30 Jun 2009
For many many people a changelog is a very important thing. It is all about justifying to your users why they should upgrade to the latest version of a plugin. Changelogger helps you keep track of what has changed in a new plugin version at a glance, right on the plugin listing page. Without opening the thickbox. Without browsing to the Changelog tab.
Screenshot: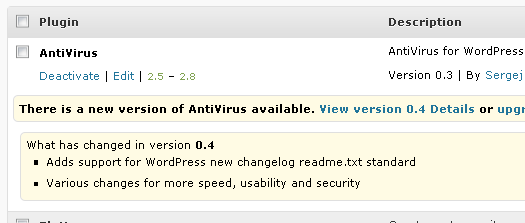 That's basically it. Given the fact the plugin author provides a changelog section, Changelogger takes action. In case there's no changelog section provided, the plugin encourages the blog owner to ask the plugin author to add a changelog section. Looks like this:

Installation is as easy as pie. Download, install, activate, done. Changelogger requires at least WP 2.7.
The plugin can be downloaded here: http://wordpress.org/extend/plugins/changelogger/ Support is given via the official plugin page or the wp.org support forums. Code documentation here.
8 Responses to "Changelogger"