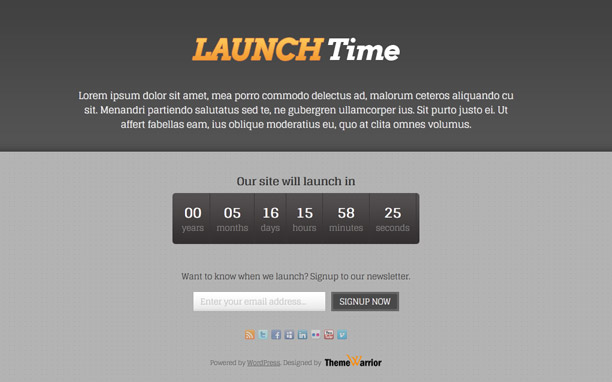 Name: LaunchTime
License: GPL
Demo: http://demo.themewarrior.com/?theme=launchtime
Info & Download: http://www.themewarrior.com/2012/04/launchtime/
LaunchTime is a coming-soon page theme that you can use as a placeholder while waiting until your site is launched. LaunchTime is equipped with jQuery countdown timer that will display the time-left until the site is release.
LaunchTime theme also comes with Feedburner subscription form and social media icons. This theme also comes with 8 color styles (Black – Default, Brown, Dark-Blue, Green, Light-Blue, Pink, Purple and Red) that you can choose from WarriorPanel.